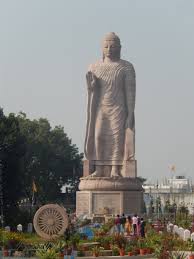 The giant Buddha statue in Varanasi, India, commemorating the spot where the Buddha first revealed the 4 Noble Truths to humanity.  I was there is 2015.
Introduction
Buddhism is often misrepresented as a cynical religion, a frequently espoused inaccuracy based on only a superficial understanding of the Buddha's teachings.  I have practiced Buddhist meditation and studied Buddhist teachings for years, and many of my good friends are either Buddhist monks or teachers.  I can tell you from experience that Buddhist practitioners are some of the most joyful people I know.  And I myself have become a far happier person after integrating the Buddha's meditation methods into my own life, although I still do not consider myself "Buddhist."
One of the reasons why many people associate Buddhism with negativity is the single-minded focus on human suffering in the Buddha's historical teachings.  The Buddha famously said that if you were shot by an arrow and were bleeding to death, you would not ask irrelevant metaphysical questions about where the arrow came from, who shot it, or why it exists.  The Buddha was reluctant to comment on questions about the existence or non-existence of the gods, or the ultimate fate of the universe, because he believed that the essential purpose of the spiritual life is the pragmatic search for human happiness.  He wanted to actually remove the arrow instead of merely "explain" its mysterious origins.