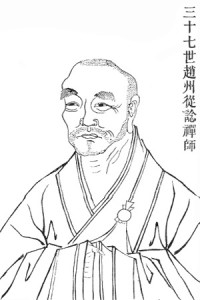 -A 19th century woodcut of the great Zen Master Joshu
Joshu asked Nansen, "What is the Way?" "Ordinary mind is the Way," Nansen replied. "Shall I try to seek after it?" Joshu asked.  "If you try for it, you will become separated from it," responded Nansen.  How can I know the Way unless I try for it?" persisted Joshu.  Nansen said, "The Way is not a matter of knowing or not knowing. Knowing is delusion; not knowing is confusion. When you have really reached the true Way beyond doubt, you will find it as vast and boundless as space. How can it be talked about on the level of right and wrong?" With those words, Joshu came to a sudden realization.

– Chapter 19 of the Mumonkan
Introduction:  Where is the Place of Enlightenment?
I grew up surrounded by what is sometimes called "Churchianity" in Oklahoma.  I certainly learned some important lessons from my experiences in church-most notably a deep appreciation for the original teachings of Jesus – but eventually I grew jaded with the traditional Christian worldview as time went by.  There were many complicated reasons for my frustration, but perhaps the primary reason was the inaccessibility of God.  God was always something separate from us; He was always in a faraway realm that was far superior to this world, and the only hope we had of experiencing Him fully was in the afterlife. And even then there was always a separation-we were mere humans, and God was God, end of story.
In Zen Buddhism I found a tradition that, among other things, taught the (for me) revolutionary teaching that the Buddha Nature, a term which for me is functionally synonymous with God, is not separate from this very world.  In fact, we would see that we ourselves and all things are It if we could see clearly. As I practiced Zen meditation and studied more about the tradition my ordinary life, with all its usual maddening frustrations, became infused with a glow of supreme sacredness, a point of view that the story I am about to comment on expresses with powerful clarity.  For in Zen our ordinary life is itself the life of the Buddha.  And as it says in the Lotus Sutra, this very world is the "Place of enlightenment."
A koan is a typically paradoxical Zen story or saying that is sometimes used as a meditation object and is also frequently used as sermon material. This koan from chapter 19 of the Mumonkan (or "Gateless Gate"), the most famous collection of Zen koans, centers around the life question of Joshu, a future Zen master who taught in 8th century China and who in this koan appears as the student.  As with all commentary, my thoughts are not the "correct" way to see the story but merely reflect my own personal thoughts and understanding at this moment.  I also am admittedly interposing my own biases and feelings into the story, but this itself is the very nature of commentary. Please reflect for yourself and discover what it means to you!