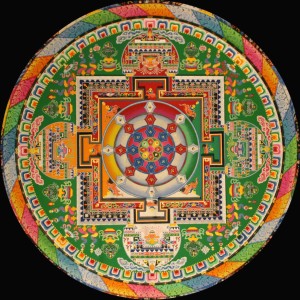 Introduction: There are no "Shoulds" in God
One of my goals as an author is to bring God "down to earth," and help people connect with the Divine within themselves in practical ways that can be integrated into daily life.  In the West, most people view "God" as something outside of them to be believed in, and do not realize that He/She/It is within them (and ultimately IS them), and can be experienced ever more deeply through spiritual practices like meditation.  Although we are already one with God right now in this very moment, most of us still need to do spiritual practices to remove the ignorance that veils us from It, just as fog veils our reflection in a mirror.
People often view spiritual practice as an obligation, but in reality it is a celebration for people who understand that God is Ever Present, Ever New Bliss, as the great Master Paramahansa Yoganada once defined It.  A wise woman once told me that, "There are no shoulds in God," because the spiritual path is ultimately about connecting more deeply to Love, Joy, and Bliss, and not about pleasing a Deity outside of you.  For once you realize that God is the Source of all Joy, seeking Him becomes potentially effortless, because you realize that He is what you have been seeking all along!  Furthermore, once you realize that you are One with Him, and that He is actually the One experiencing "you," your own seemingly ordinary life becomes transformed into His very expression, "The Kingdom of Heaven within you" (as Jesus expressed it) or "Nirvana" (as the Buddha called it).
Here are six practical tips for communing with God in daily life as a working person with a 9-5.  For a more comprehensive explanation of my spiritual views, read my book Daily Bliss in the link above.  If you do not believe me, or if these methods don't work for you, I simply don't care.  As Hafiz once said, God and I are having a wild party, and will enjoy Ourselves no matter what, but it would also be great if others joined in the Fun!  All my writings are merely expressions of what works for me that will hopefully inspire others to seek the Divine within themselves.  And don't be fooled:  No "how to" manual or "___ step method" can lead you to God if you do not love Him more than worldly things, and are not willing to sacrifice lesser goals to realize Him.  Only His Grace can open your eyes to the fact that He is the goal of life Itself and that, apart from Him, there can be no lasting happiness.