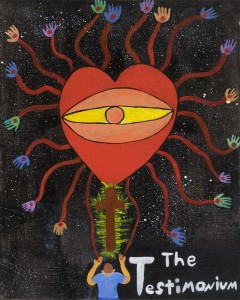 Hello Again!
Hello again, friends!   I have not been blogging as much as I want to since I have been busy with school, creating my new album, and working at my internship.  But, praise be to God Almighty, He is my SHALOM and "the author and finisher of my faith" (Paul the Apostle). Indeed, through all the diverse activities that color the lives of His servants God is working on their behalf to lead them to ultimate fulfillment in His glorious perfection.  And through bad times and good, busy times and restful times, God is an inexhaustible Source of the love and incomparable bliss that emanate from Him "from everlasting to everlasting." How shall we respond to such a glorious state of affairs but with this ecstatic exclamation:  Come, let us worship Him forever!
Introduction
In this post I am going to discuss a few perspectives on what it means to surrender to God.  To begin I want to say a few words about the above painting that I called "Surrender."  This painting is the cover of my new album, The Testimonium, and encapsulates the album's message in a single image.  In the painting a young man has encountered within himself God's love and the Infinite Consciousness that exists forever (this is what the heart with the Eye within it symbolize).  From this state of awe he then surrenders his human will to the Great One, and this is symbolized by the blood flowing out of his hands into the heart and also by the cross.  For the cross, among others things, is a symbol to me of complete surrender to the will of God, even to the point of death.
The rest of the painting symbolizes what happens next.  When someone surrenders to God He then empowers that person to live a miraculous life they never dreamed they could.  God not only reveals Himself but gives them a destiny, a dream, a mission to accomplish on the Earth.  And where God leads may be totally unexpected and seemingly beyond your capacity to do, but the whole point is that HE is now the one living through you, and He is not limited by anything, for "with God all things are possible" (Jesus). The many arms are thus the many ways God can work through someone to help the world.  The young man surrenders his life to God, and out of that surrender God then lives HIS life through the young man.  It is then "no longer I who live, but Christ living in me," as Paul wrote.
I have recently experienced this in a new way in my life.  I just released my first full-length album (a link can be found in the music tab above), a work I never would have even dreamed of until God led me in that direction.  Three years ago I didn't even play an instrument, let alone write songs.  It never even occurred to me to do such things, but God has a plan for my life that far exceeds my own expectations.  Many people create albums, and the point here is not about the quality of the work itself; rather, the point is that out of my relationship with God He gave me a dream I never knew I had and accomplished through me a work I never thought I could do.  To my God be the glory forever!
God has dreams for everyone, but it is essential to know that the dreams themselves are FAR inferior to the Author of those dreams.  The first step in the path to God must therefore be a surrender of the will to Him, and the realization that He alone can satisfy you.
The Invitation
In the book of revelation Jesus said, "I stand at the door and knock. If anyone hears my voice and opens the door, I will come in and sup with that person, and they with me."  This passage wonderfully reveals that seeking communion with the living God is not a matter of should or shouldn't, right or wrong.  God created us with free will, and He will never violate our right to choose the life we want to live or love of less if we do not seek Him.  He will never force Himself upon us, even though He knows He is the key to our satisfaction and that nothing else can fulfill us.  Yet the Lord of Love is always calling us closer to Him and "stands at the door" of our heart extending us an invitation to His buffet of infinite joy.  He is calling us to surrender our life to Him, since only through such a surrender can we experience Him fully.
This surrender, to me, encompasses two primary things:  firstly, it means that we recognize the impermanence of all worldly things and realize that lasting happiness cannot be found in them.  From this recognition then comes the rational conclusion that the realization of God, and of our oneness with Him, should become the supreme goal of life.  Secondly, it means that while we remain on Earth we should surrender our human will to God in a practical way, and ask Him to reveal our function in "the body of Christ."  You may have, in the eyes of the world, a big role or a small role in the drama of history, but in God's eyes everyone is equally important.  For I would rather dig graves if God had specifically called me to it than be an influential billionaire if that life plan deviated from the will of God.
These two facets encompass a complete surrender to God that brings immediate peace. For the real gift of surrender is not a "fun" life but "the peace that passeth all understanding" as Paul so eloquently said.  God may or may not have a destiny for you that is "flashy" but if you wholeheartedly pursue it because you trust Him you will always have peace.  For I trust that when I surrender my life to God He always directs me on the right course.  I don't always know His will and make mistakes like everyone else, but I know God will reveal the best path in due time if my heart is set on Him.  Surrender doesn't mean God will make all your decisions for you with a neon sign in the sky; rather, it means that your heart can be at peace because you know that God is silently guiding your footsteps wherever you choose to go.
This doesn't mean, however, that God is not deliciously specific sometimes.  I, for instance, only set out to make my album because I strongly felt that God specifically wanted me to do it.  Also, He has led me to specific teachings, books, and practices (Zen meditation, for example) in response to my prayers to know Him.  What an awsome adventure it is to consciously participate in the ingenious plan of the Infinite Creator!
Lastly, please remember that surrender should be inspired by relationship.  God gives practical guidance that flows out of our relationship with Him, not in an impersonal way like a magic eight ball.  Surrender is thus not about "shoulds." It is rather the deliberate setting aside of lesser goals and things, the moment when the heart places its supreme value on its relationship with God because it realizes that this is the most fulfilling strategy possible.  Out of surrender then flows a life of great adventure that comes as a by product of this all consuming communion.
The Full Package and the Fine Print:
For those who are led by the Spirit of God are the children of God. The Spirit you received does not make you slaves, so that you live in fear again; rather, the Spirit you received brought about your adoption to sonship. And by him we cry, "Abba,Father." The Spirit himself testifies with our spirit that we are God's children. Now if we are children, then we are heirs—heirs of God and co-heirs with Christ, if indeed we share in his sufferings in order that we may also share in his glory. – Romans 8: 14-17
As it says in the previous section Jesus (or Krishna, or Rama, or whatever you want to call the One) stands at the door and knocks.  He is offering us the full package that Paul the apostle called "sonship" or daughter-ship.  This sonship/daughtership means that through surrender we inherit, like the child of a landowner, everything God has- firstly, and most importantly, God will give us to the experience of Himself if He is what we desire most.  And since God IS bliss, IS joy, and IS happiness we will inherit and eventually grow into an unshakeable peace if He is the goal.  And as if this were not enough, God will also guide us into a life of service that includes a destiny He Himself personally fashioned for you based on your unique qualities.
Yet a few things (the fine print) need to be kept in mind concerning this.  Firstly, if God Himself is not the goal the entire path turns into a shameful exercise in idolatry.  Many preachers get their congregations riled up by promising that God will give them riches, a good spouse, and a better life.  The truth is that this may not be the case.  And even if it is the case, to seek any thing above God Himself misses the entire point of the spiritual path and grieves the heart of the Father.
Secondly, many people think that by praying sincerely God will make all their dreams come true in an instant (I am always struggling with this one!).  The real truth is that we actually have to do our part, work hard, and utilize common sense.  A famous parable illustrates this: a man was drowning and prayed to God, "Lord, please save me!"  Then a coast guard ship came by and said to the man, "Swim to us so we can save you!" The man then said, "Sorry guys, God is coming to save me, so you can go on."  When he died he asked the Lord in the afterlife, "Lord, why did you not answer my prayer and save me?"  The Lord then said, "I Myself sent the coast guard, so why didn't you listen to them?"
Lastly, the things God calls you to won't happen in your timing or in the way you think they should.  In fact, it is my experience that God will test your heart and see if you are really after Him or His gifts by causing your plans to seemingly come undone.  For even "the pagans" run after the things of this world, but how few a soul will actually seek God alone?  Those that do may have to sacrifice many conveniences or even their entire life dream, but how much greater is the Author of that flimsy dream, the sole Eternal One who far surpasses all His temporary manifestations?  Our works, therefore, should not be sought in themselves, but as the Bhagavad Gita says, "all work should be done with God as the goal."
Conclusion: Allah-u Akbar! 
There are many details that could describe a life surrendered to God, and this post could go on and on naming them all.  Yet the truth is that surrender to God is not complicated, that there is no special method to adopt, and that all the details revolve around one central point.  To me, the Islamic prayer call instituted by the Prophet Muhammad wonderfully expresses this point of why we should surrender to God.  Five times per day in Islamic countries the prayer call sounds "Allah-u Akbar" which means "God is greater."  A person could be working, having fun, or spending time with family, but the call they hear is a priceless reminder that God is greater than life itself.
When one finally realizes this they will spontaneously surrender their life to God, to Enlightenment, or however else they conceive of the spiritual path.  The way this surrender looks is unique to each individual.  For some it is a path of devotion, for some it is a path of non-duality, and for some it is a path of meditation.  For some it is a path of Christianity, for some of Islam, and for some of Hinduism.  Yet whatever spiritual path one takes, the common denominator is the same – God is the goal, for "God is greater."
In my opinion there is no better way to approach life, for along with the shalom of God one is then empowered to live out God's unique and exiting destiny for them.  And who knows what plans the Creator has for you, or what He can do through you to glorify Himself?   Yet no matter how high we climb or how much we achieve, it is all futile without God;  for there is no greater wisdom than surrender to God, a realization that all of humanity's great prophets have echoed throughout history in diverse ways that all unwound into the same universal conclusion summarized in the these simple words:  Allah-u Akbar, God is greater!
May you and all beings be happy, and may you feel more loved by God than you already are; for if you think you have plumbed the depths of God's love you are ignorant, for His love is as infinite as the universe that so feebly attempts to express it.
SHALOM and LOVE to you and to all,
Jeffrey

Similar Posts: