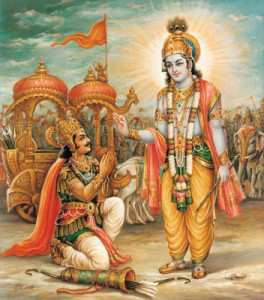 – Krishna revealing the Bhagavad Gita to His famous devotee Arjuna (Although I have never heard of any scriptural evidence for this, Arjuna is usually depicted with a sweet 1980's style mustache in most paintings of him).
"All those who take refuge in Me, whatever their birth, race, sex, or caste, will attain the Supreme Goal."  – Krishna in the Bhagavad Gita
Every now and then, I discover a book that radically changes the way I perceive the world.  For me, the Bhagavad Gita was one of those books.  I remember randomly taking it off the shelf at Borders in 2009, and as I grazed its mysterious pages, my heart leapt with wordless recognitions of its greatness and profound depth.  I have read the Gita many times since then during difficult moments in my life, and it has infallibly been a potent source of inspiration and spiritual insight.
The Gita is many things: an archetypal expression of the human condition, a guide to Self-Realization, a quintessential text on yoga philosophy – some have even called it "the Bible of India."  It has been a source of inspiration for countless thousands of spiritual seekers and eminent minds, including Gandhi, Emerson, Thorough, and Paramahansa Yoganada, just to name a few.
Including and superseding all these descriptions, the Gita is a powerful poetic expression of the Krishna's Awakened Mind, the spiritual Muse of the text penned by Vyasa, a sage in his own right.  Any authentic scripture is, at its deepest core, an expression of a spiritual state of mind that the words point to, but do not contain.  To understand the essence of a scripture is therefore to experience that state of mind yourself, not merely to memorize the words.  In the West, nearly the entire Christian world has unfortunately overemphasized intellectual knowledge of scripture, as if the unfathomable Christ-Mind of the Spiritual Master Jesus could be understood by merely memorizing passages.